Staying Safe When Using Hook-Up Apps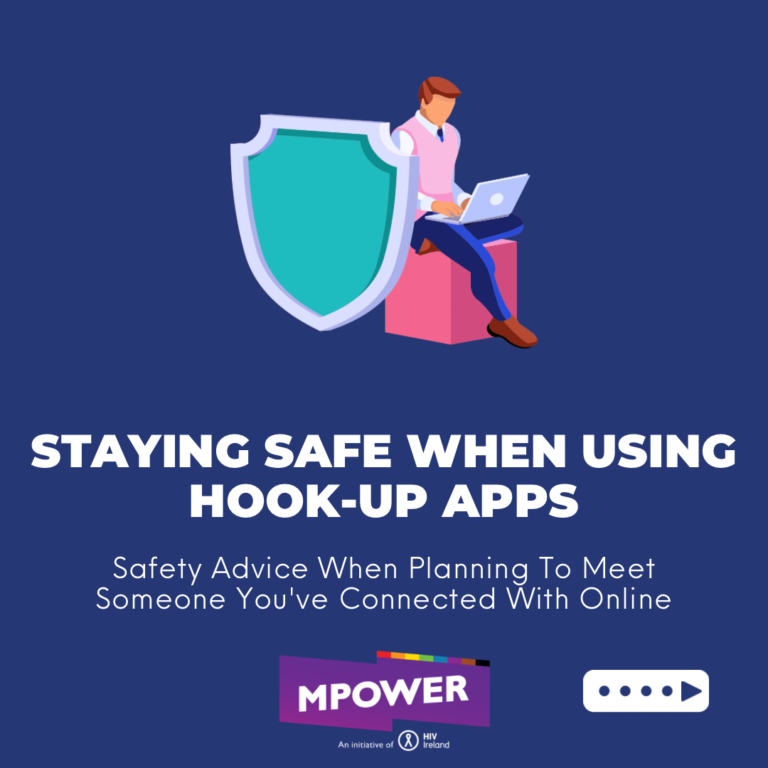 Most of the time, using hook-up apps is a fun and pleasurable experience. However, on occasion, things can go wrong. Anyone can potentially become a victim, no matter how often you've had successful hook-ups in the past or how experienced or savvy an app user you are. No matter what – if you are the victim of any crime – know that you are never to blame for the actions of someone else.
Below are some tips that can help keep you safe when using hook-up apps. At the end of the page we have links to where you can report hate-crime to the Gardaí and we list the contact details of organisations you can reach out to if you need support.
Get a face pic before meeting him.
Lots of guys are shy or aren't ready to come out yet so might be hesitant to share a face picture. However, if you are considering meeting with a person who refuses to share pictures of their face with you, when you have showed them yours, then you should consider this a red flag. Maybe they're insecure about how they look or they don't trust you yet – that's fair enough 

–

 consider putting off meeting them until you've built up enough trust that they've shared their face pic with you.
Suggest a video call.
Getting a face pic is important but a photo can't always be trusted. If you're not entirely convinced about his face pic(s), suggest a quick live video call. It's a quick and easy way to figure out whether your hookup is who they say they are. Most gay dating apps such as Grindr and Scruff etc… offer a video chat functionality, so you don't have to share your mobile number.
Check out his socials.
If a video call isn't his thing, or yours, ask for his social media handles or check his profile to see if he links to them. You might get a better sense of him from what he posts on Twitter or if you have friends in common on Instagram or Facebook. Be wary of any social media accounts that are newly created, with low follower counts and have no or few posts.
Let a friend know you're going to hook-up with someone.
Send a text to a trusted friend or into the group chat, particularly if it's the first time you're meeting your hook-up in real life. Tell them where you're going or drop your live location, plan a time that you'll check in with them to let them know it's going well or a safe word that you'll send if you need help.
Keep your phone and GPS on and share your live location with a friend.
This makes it possible for friends (or the Gardaí) to know where you are if you need help. If you hook-up a lot, you can be sure that your pals will be much happier to receive texts about you going for another hook-up instead of receiving news that you've had a bad experience. It works both ways too – encourage them to let you know when they're planning a meet. It's great to know that our friends trust us and that we can play a role in making sure our sex lives are safe and enjoyable.
Meet somewhere public first.
Whether he's offered to host or if you can accomm, it's a good idea to meet him in a public place with people around. Take a few minutes to chat – if you get the gut feeling that something isn't right, no matter what it is, make your excuses and leave. Your safety will always be the most essential thing – it's not rude to change your mind!
Listen to your instincts.
If you go to his or bring him back to yours and the vibe changes or he does something you don't like, whether that's something obviously wrong or something you can't quite put your finger on, listen to your gut, make your excuses and leave. If he's at your place ask him to leave, alert your friends and the Gardaí if he won't.
Think before accepting drinks or food and bring your own lube and protection.
Most guys offering you something to eat or drink probably just want to make you feel welcome and comfortable but it's best not to accept it if you don't see it being prepared. Spiking drinks, food and even lube is rare but it does happen.
Get help if you need it.
If an emergency unfolds, call 999 and ask for the Gardaí. If you've been the victim of abuse or crime by someone you met online, report it to the Gardaí and reach out for support if you need it. There are lots of organisations to offer you support – some are listed below. 
If you have been the victim of a hate crime, you can report it to the Gardaí using their online hate crime reporting system. The online reporting system should not be used in emergencies; where there is an immediate risk to life or a crime is in progress or if you feel threatened or are in danger in any way, call 999/112.
Support is available from the following organisations: